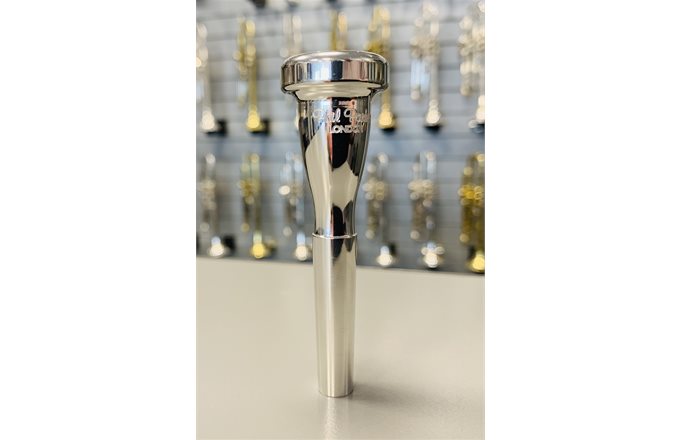 SKU: PP-TMP-LEAD
Phil Parker London Trumpet Mouthpiece Lead
---
Phil Parker Ltd are delighted to announce the arrival of their new range of Trumpet Mouthpieces. The experienced staff have collaborated to develop a straight forward range of mouthpieces designed to make selection easy. Picking the best bits from lots of other mouthpieces, the shape, rims, cups, throats and backbores have all been put together to make each piece ideal for its style.
The Range comprises four Trumpet Mouthpieces Symphony, Soloist, Studio & Lead which are complemented by a cornet and flugel mouthpiece. They are all made in Europe to the highest standards and finished in silver plate. They are supplied complete with a  special leather pouch to keep your mouthpiece in tip top condition.
The Lead takes things a bit further than the Studio and is slightly smaller and shallower. It has been designed for the player looking to play lead trumpet in big band and show playing. The flat rim and sharp bite aid endurance and range and it produces the ideal hot lead sound this type of player is seeking.
Model
Cup Diameter
Cup Volume/Shape
Backbore
Rim Shape
Key Features
Comparison
 
Lead
16.26mm/0.64"

Small with flat bottom for
sizzling sound and increased
Embouchure space.

Commercial backbore, desgined
for power, compression and
a big fat sound.
Flat - Medium
wide
Flat rim spreads load across lips, medium sharp bite holds lip aiding stamina, slotting and security. Steep angle from rim to flat cup bottom reduces tendency to bottom out and creates a hot lead trumpet sound.
Bach 7E, Schilke 13A4A, GR64Z*
 
Studio
16.5mm/0.65"
 Small conventional cup, less agressive than Lead
 Commercial backbore, designed for power, compression and a big fat sound.
 Medium wide
 Standard medium rim aids flexibility whilst small cup volume gives help in the high register. An ideal all rounder for the lead/studio player who needs a great high register with increased flexibility for jazz solos and show work.
 Bach 5, Schilke 14A, GR65S
 
Soloist
16.76mm/0.66"
 Medium conventional cup
 Standard backbore, designed for all round use. Ideal for all styles, with clear and focused articulation, free high-register and good response/feel in the middle and low registers.
 Medium
 The all rounder in the range. The Soloist is ideal for the player who requires one mouthpiece for all styles. Bright and responsive enough for big band playing yet big enough for symphony playing, film music and shows. Ideal chamber mouthpiece for Eb and C trumpet. Like a Bach 3C but with more power!
 Bach 3C (less deep), Schilke 14B, GR66M
 
Symphony
16.97mm/0.668"
 Medium large
 Symphonic backbore for a large free blowing orchestral sound. 24 throat.
 Medium
 The Symphonic mouthpiece is designed  to appeal to players who like a Bach 1.5C and 1.25C. It is the diameter of a 1.5C but with a more rounded rim providing increased flexibility. Featuring a more open throat and backbore, it is the perfect classical and orchestral mouthpiece for comfort, endurance and sound quality.
 Bach 1.5C, Yamaha 17C4, GR66.8B