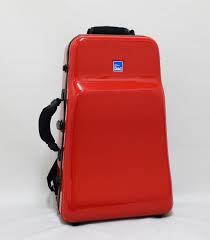 SKU: DAC-TP2+aRED
DAC Trumpet Case Platinum Pure Red
---
DAC - TP2+ Multi Trumpet Cases
SGD650.00
The DAC TP2+ trumpet case is unique among professional cases in that it is totally customizable inside. It is designed to carry two full-sized Bb or C trumpets, or a Bb/C in combination with a piccolo trumpet, rotary trumpet or mutes (see photo). With the exception of some padding along the bottom edge of the inside wall and along one part of the lid, there are no permanantly affixed structures.
All structures—blocks, pads and even the small accessory compartment—are configured by you to best fit your horn. The case is of fiberglass construction and is one of the lightest we have ever seen at only 6.65 pounds (3 kg). It is sleek and compact, taking no more room than is needed to safely carry your horns. The case comes with two straps, arranged in backpack fashion, which are permanently attached to four steel D-hoop cleats.
Features:
Lightweight fiberglass shell body.
Steel hinge & latch enclosure (3 hinges & 3 latches).
Black painted steel hardware.
Rubberized valence.
Padded shoulder straps (2) in backpack configuration.
Steel D-ring cleats (4)
Rubberized grip handles (2).
Soft velvoa interior lining.
13 padded blocks and plates for maximum configuration possibilities.
Interior small accessory compartment, moveable.
Overall Dimensions (inches): 21 long x 14 high x 6.5 deep.
Overall Dimensions (metric): 53 long 35.5 high x 16.5 deep.
Weight: 6.65 pounds (3.0 kg) with straps attached.